Now you know

Mondayjazz

with

Tadas Quazar & Justas Fresh Mixette vol 47


and this new one is from their good fella and my good friend too, Synsoulsizer.
Let's listen to him about this

"
Asummblearic"
mix:



"

I think that music is epic, that's why i write my

cosmovast.com blog which leads
to my parties, here in Vilnius. There are no styles, just music, a good music.
I'ts more about how to select a good track at the current moment.
I'm still buying vinyls only, which i think is a big discussion for everybody.
There is so much undiscovered music in the past...
I play various music with different kind of dj's here in Vilnius.
The music which encouraged me to start buying vinyls is the one who has
a cosmic sound/mood in it.

I and my friend Ryklys we run another project in Vilnius.
It's called "Sulinys" (The well in english). We play a darker music in "Sulinys",
when we usually do...



I was always interesting in music. I started to play records 2 years ago.


I always hope for music lovers in the party. I hope there will be more and
more people which value the music!"

Sounds good to me. Involved and Inspired.
Let's go!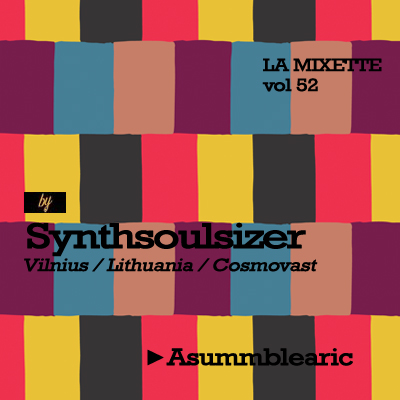 DOWNLOAD / LISTEN HERE

or

MIXCLOUD




Joe Jackson -
Zemeo
Bow Mods - Country Girls (Cage & Aviary Remix) instead of (Cage & Aviary Dub)
Papa Levi - Big 'N' Broad
Wally Badarou - Chief Inspector (Hill Street)
Sylvester - I need somebody to love tonight
Coyote - Afro Balearic
Fern Kinney - Baby let me kiss you
Pacific Horizons - Universal Horizons
Prism - The white Shadow
Moon Martin - Paid Killer (as Pain Killer an edit of Woolfy)
Laid Back - Fly Away
Gary Davis - The Pop
Extra T's - E.T. Boogie instead of (E.T. Boogie (Instr.))
Andreas Vollenweider - ...behind the Gardens - behind the Wall - under the Tree...
www.cosmovast.com
www.rutrut.lt/bangos